The Star Online: A Shot in the Arm for Medical College
Sep 26 2018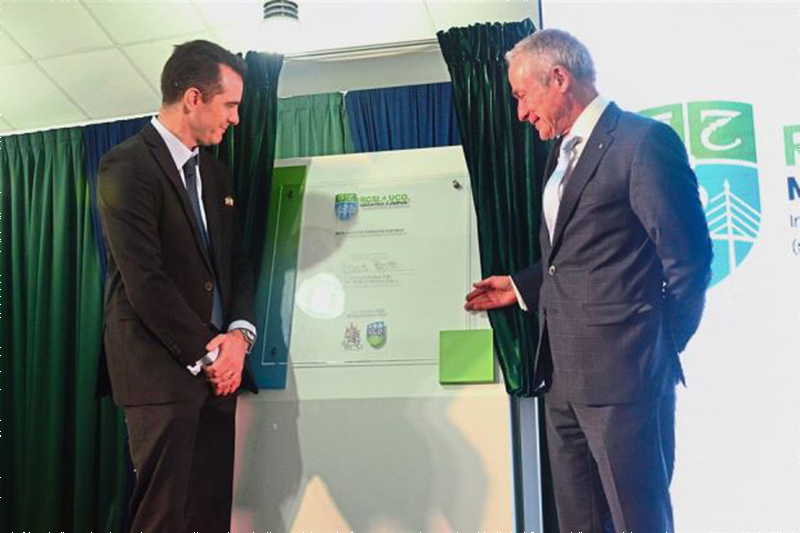 RUMC (formerly Penang Medical College) recorded a historical milestone with its upgrading to university status, marking it as Malaysia's 10th Foreign University Branch Campus.
The conversion was approved by the Education Ministry in March with the full name Royal College of Surgeons in Ireland (RCSI) and University College Dublin (UCD) Malaysia Campus.
In short, it is RCSI & UCD Malaysia Campus (RUMC).
The recent launching ceremony was graced by Irish Minister for Education and Skills Richard Bruton T.D and Higher Education Malaysia deputy director-general Dr Mohd Nor Azman Hassan.
Also present were Irish Ambassador to Malaysia Eamon Hickey, RCSI president Kenneth Mealy, UCD deputy president Prof Mark Rogers and RUMC president and chief executive officer Prof Stephen Doughty.
Bruton said the achievement isa testament to the quality of the medical education programme delivered in Dublin and Malaysia, the talented academic staff, andthe graduates who are leading improvements in healthcare around the world.
"This is a historic day for the future of higher education in Ireland, having two of its oldest and leading medical schools, RCSI and UCD, working with Malaysian public hospitals through RUMC," he said, adding that RUMC is the best example of modernisation and internationalism in education.
RCSI is ranked among the top 250 (top 2%) of universities worldwide in the Times Higher Education World University Rankings (2018) and its research is ranked first in Ireland for citations, while UCD is one of Europe's leading research-intensive universities and currently ranked within the top 1% of institutions worldwide.
Bruton added that it was his Government's expectation for RUMC and Ireland to continue fostering a close relationship that would drive regional development and create a steep change in the impact and influence of the institution nationally and internationally.
Dr Mohd Nor said RUMC would help the Education Ministryfurther enhance the higher education landscape in the country towards achieving its desire to be an international hub within the Asean region.
"We have done exceptionally well so far with our drive to have a population of 200,000 international students in Malaysia by 2020 well on target.
"We have an elite group of Foreign University Branch Campuses comprising three from Australia, five from UK, one from China and now the 10th from Ireland," he said.
Through RUMC, Dr Mohd Nor hoped to see more research collaborations, cross-country research grant applications and funding, as well as more student mobility between Ireland and Malaysia.
He said it was important to keep developing the quality of higher education institutions in Malaysia as the country embarks on the Fourth Industrial Revolution (IR 4.0).
"We need our institutions toprepare holistic graduates who are ready for the future. We lookforward to learning from Ireland which is one of the countries most well prepared for IR 4.0."
Prof Doughty said RUMC, to date, has nearly 1,700 graduates practising around the globe, adding that the graduating class of 2019 would be the first to graduate under the new university name.
"RUMC was built upon more than 20 years of RCSI & UCD Malaysia Campus's high quality Irish education delivery. The university is committed to offer more quality internationally recognised programmes to cater to growing demand in the global healthcare sector."
Wholly owned by RCSI and UCD, RUMC was established in 1996 providing Malaysia's first registrable medical degree from a Malaysian private higher education institution. The degrees are awarded by the National University of Ireland.
Prof Doughty said the newly launched institution would bebetter placed to inform theprofession and the public about medicine, especially throughhosting the prestigious Cochrane Malaysia network which focuses on the dissemination of evidence-based medicine.
In addition, future plans to increase research activity andoutput would ensure that Malaysia stays at the cutting-edge ofmedicine development.
"However, our core activities will remain as providing quality and affordable Irish medical education in Malaysia and ensuring that our location in the northern corridor supports the region and its development," he concluded.
Mealy said that RCSI's international outlook combined with the experience of UCD has enabled RUMC to deliver a world-class undergraduate medical education to Malaysian students.
Prof Rogers noted that although RUMC was comparatively young,it had already achieved success exceeding its founders' expectations.