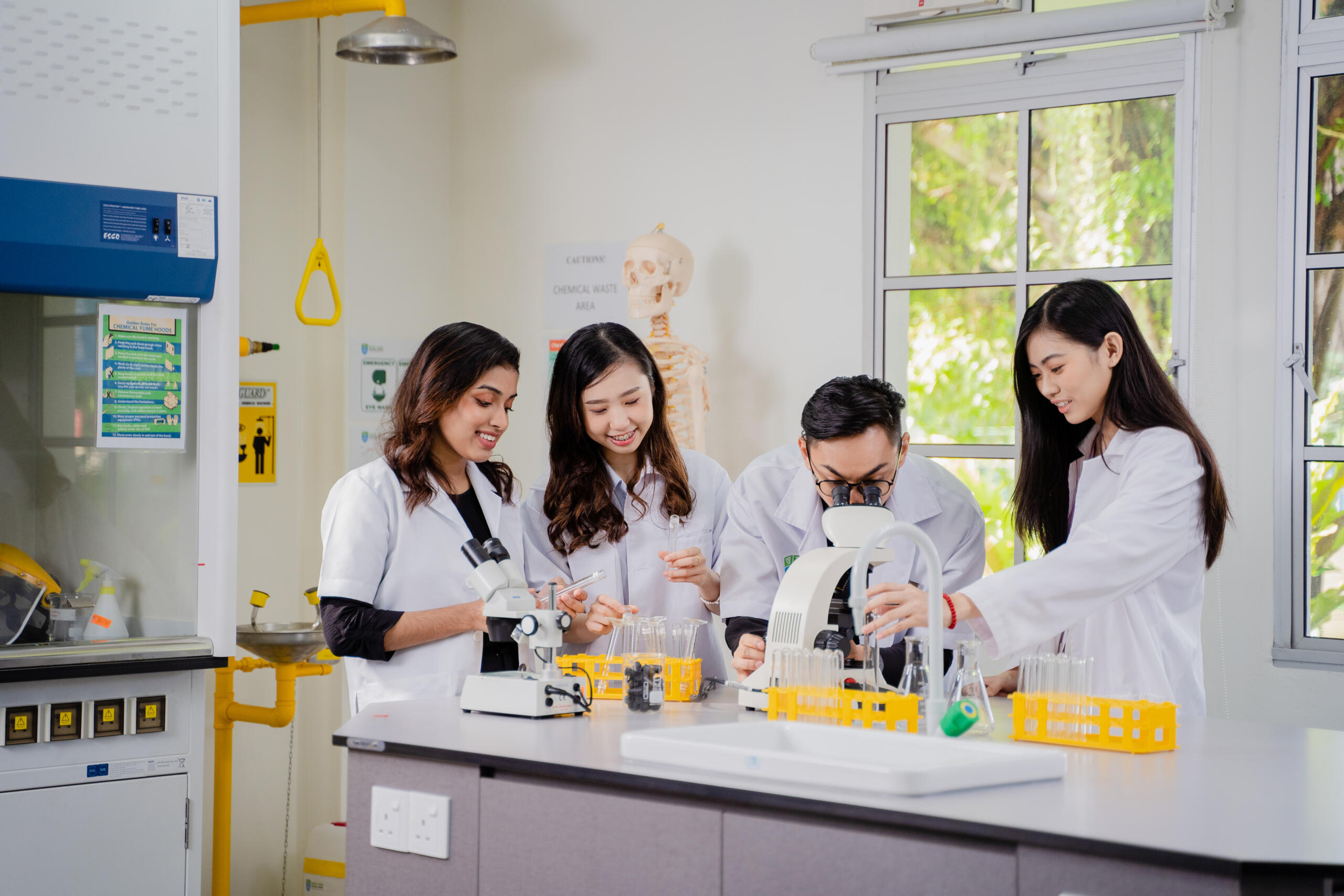 The Family Medicine Department's primary research interest is in the areas of medical education (jointly with other departments) and community surveys. Research in the following areas have either been recently completed or ongoing: Communication skills teaching assessment, Role of simulated patients, Impact of Palliative Care curriculum, Perceptions of medical students towards General Practice, Medical Professionalism, Acute emergency teaching using advanced patient simulator, Competence in practical skills, Survey of depression, anxiety and stress amongst high school and undergraduate students. The department plans to embark on research on general practitioners' utilization of guidelines for depression.
Research activity is currently focused on two major themes:
Research in Medical Education:
Here we have published and/or presented at international meetings over the past two years with qualitative studies on cross-cultural awareness and the impact on student experience in community placements. Current projects include the assessment of the Learning Environment in collaboration with NUS, the impact of a promotional film on student recruitment in psychiatry and a qualitative study of student experiences of a support group for people with mental illness and their careers in a local Mental Health NGO setting. A study on the impact on student learning resulting from psychiatry teaching in primary care is planned for 2014.
Research in Clinical Service Delivery:
In this category our department is leading a large epidemiological study of antenatal depression in collaboration with RUMC Dept. of Public Health and an evaluation of psychiatry consultation services for in primary care government Health Clinics in collaboration with the Clinical Research Centre and the State Health Dept. We are currently carrying out a clinical audit of the monitoring of health parameters among patients maintained on anti-psychotic medication at the Dept. of Psychiatry, Hospital Pulau Pinang. We are planning a survey with our colleagues in RUMC Dept. of Family Medicine on primary care clinician perceptions of the Malaysian Guidelines for Recognition & Management of Depression.
The Paediatrics Department currently holds two major research grants obtained from competitive funding sources, one from the Malaysian Palm Oil Board (the TOCAT study, a randomised controlled trial) and one Australian NMHRC grant (SEA URCHIN Project, an interrupted time series study of getting evidence into practice). In addition they also have a strong research interest in conducting systematic reviews, currently authoring or maintaining 18 Cochrane systematic reviews and one Overview of systematic reviews. They also provide training in Cochrane Systematic Review authoring. In addition, over the past 5 years they have published a total of 26 peer reviewed articles, 3 invited commentaries and in addition presented 10 free papers or posters at International Meetings. The Professor is a journal editor for PLoS One.
The O&G Department is involved in research projects with the collaboration of our colleagues in the Penang General Hospital.
Our interest in Obstetrics is mainly in the area of gestational diabetes mellitus and also pre-existing diabetes mellitus in pregnancy. We are also involved in the field of ultrasound in pre-natal diagnosis. We are also looking at incidence and long term effects of obstetric sphincter injury during delivery.
In gynaecology, our main area of interest is in the field of urogynaecology. This will include the treatment and management of urinary incontinence in both stress and overactive bladders. We are looking at our success of defect specific repair for both anterior and posterior compartment prolapse.
Our research is focused on the following areas:
Chronic Obstructive Pulmonary Disease (COPD): population-based epidemiology and risk factor study (collaboration with International BOLD Network, Imperial College London); detailed characterization of moderate-to-severe COPD patients including High-Resolution CT and genetic studies (collaboration with Asian Network of Obstructive Lung Disease, Seoul, Korea, & with Royal College of Surgeons in Ireland).
Diabetes Mellitus: Youth onset Type 2 Diabetes Mellitus (ongoing nationwide study); effect of Vitamin D replacement on glucose metabolism in women with former gestational diabetes; prevalence of diabetes and glucose intolerance in Malaysia including study of their risk factors between urban and rural population and in those with metabolic syndrome (nationwide study); HbA1C for diagnostic usefulness.
The department of public health medicine in RCSI & UCD Malaysia Campus is very active in research, especially those related to elderly and rural health. The department collaborates actively with the Penang state government. Among the collaborations include conducting research on the elderly in Penang to ascertain the needs, both social and health, and the health status, especially the mental health status of its geriatric population. The department is also in collaboration with the Penang Government and the Ministry of Health Malaysia in its initiative in making Penang 'tobacco smoke free'.
For more information, please contact our representatives.
RUMC students are given the opportunity to pursue their research interests in the summer, during their Pre-Clinical Years at RCSI or UCD.
More information on the summer research opportunity can be found below.
Student Research
Student Name
Year
Project Title/Description
Type
Remarks
1. Low Kah Yan
Class of 2016

Impact of Thalassaemia on Quality of Life and Employment among Adult Thalassaemia Patients (ITQLEATP): Research assistant (Data collection)

2. Caryn Lim
Class of 2017

Retrospective study on cause of jaundice presenting in the first 48 hours of life:

Literature review and presentation to research group
Development of a research protocol for a retrospective study to audit current practice, determine data availability and to determine sample size for a prospective study
Registration of retrospective study into National Medical Research Registry

Mothers' breastfeeding and hygiene experience in confinement homes in Penang compared to experiences at home

Data collection
Data analysis

Junior Research Fellowship

3. Kyralynn Maxime Taylor
Class of 2018

Cochrane Review on HFOV
Three stages of searching for articles applying Cochrane methods
a. Searching databases
b. Identifying articles that meet the inclusion criteria
c. Retrieving full text articles and applying inclusion and exclusion criteria

Junior Research Fellowship

4. Sarah Nur Alya Nasaruddin
Class of 2019

Barriers and enablers to the practice of Kangaroo Mother Care: Key Informant Interviews

Junior Research Fellowship 2019

5. Solihin Zahari
Class of 2019

Translations of Cochrane Plain Language Summaries (PLS)

Cochrane Malaysia Elective

Continued active translation of Cochrane PLS after graduation

6. Nur Faezah Zainudin
Class of 2020

Audit of GET-IT glossary on www.cochrane.org/ms

Cochrane Malaysia Elective

7. Chung Xiao Ying
Class of 2019

Population-based breastfeeding practices study in Penang.
1. Designed the study
2. Applied for ethics
3. Data collection

Junior Research Fellowship 2019/2020

8. Tey Shen Liang
Class of 2019

Population-based breastfeeding practices study in Penang.
1. Designed the study
2. Applied for ethics
3. Data collection

Junior Research Fellowship 2019/2020

9. Tamanna M Bakshi
Class of 2020

Population-based breastfeeding practices study in Penang.
1. Analysed data
2. Writing the paper (in progress)

Junior Research Fellowship 2020

10. Claire Lee Yuan Qin
Class of 2020

The impact of an educational intervention for confinement centres on mothers' breastfeeding and hygiene experiences in confinement centres compared to experiences at home in Penang.
1. Organisation of data
2. Data analysis using Stata
3. Post Workshop Call Interview

PenGalac Project
1. Cleaning up the database

A case of Methaemoglobinaemia in both newborn baby and mother.
1. Literature review

Junior Research Fellowship

11. Lau Li Ie
Class of 2020

Oral galactagogues (natural therapies or drugs) for increasing breast milk production in mothers of non-hospitalised term infants

Post-graduation research

Data extraction for the Cochrane review which was subsequently published in May 2020.
Junior Research Fellowship Programme
Junior Research Fellowships (JRF) are offered by RUMC to graduates who would like to use their time after graduation to gain research skills. The duration of the fellowship will vary from one to 6 months. Successful Junior Research Fellows will receive a certificate of completion and a record detailing their experience. This record could be used by students who wish to apply for research degrees at some time during their career.
Depending on the contribution, the Junior Research Fellow may be listed as an author or acknowledged on any published papers that come out of the research or have opportunities to present the results at a scientific meeting.
It would be expected that expenses incurred as part of the research process would be remunerated. However, there is no renumeration for the fellowship. However, some research grants may have provisions for this.
The candidate must:
01
Be a recent graduate of RUMC
02
Be able to demonstrate ability to conduct research in a professional and ethical manner worthy of the title
03
Be under the supervision of a RUMC academic staff
04
Not expect any remuneration for the position unless this is provided for from research grants
Applications for Junior Research Fellowships will open annually usually in the week between final examination and graduation. As projects become available, these would be announced to the graduating class and interested students may apply.

Appendix 1: Flow chart of the application process