Professor Karen Morgan
President, RUMC
Professor Karen Morgan joined RCSI & UCD Malaysia Campus (RUMC) as President in September 2023. Prof. Morgan graduated from UCD with a Bachelors of Psychology and a Master in Social Organisational Psychology before joining Accenture as a Change Management Consultant where she worked with government clients in the UK and Ireland on major transformation programmes. She later worked as a Project Manager at RCSI and was awarded a PhD in Health Psychology (RCSI) in 2008.
Prof. Morgan is a former President and Fellow of the European Health Psychology Society. Her research interests include ageing, quality of life and mental health. She is a Co-Editor of the journey Health Psychology and Behavioural Medicine. Prof. Morgan holds a Post Graduate Certificate in Medical Education from Newcastle University and has over 20 years of experience in health professions education and institutional quality assurance.
She has been an external advisor for undergraduate and postgraduate psychology programmes at Sunway University Malaysia since 2018. From 2017-2022, Prof. Morgan chaired the International Undergraduate Award Committee for Psychology.
---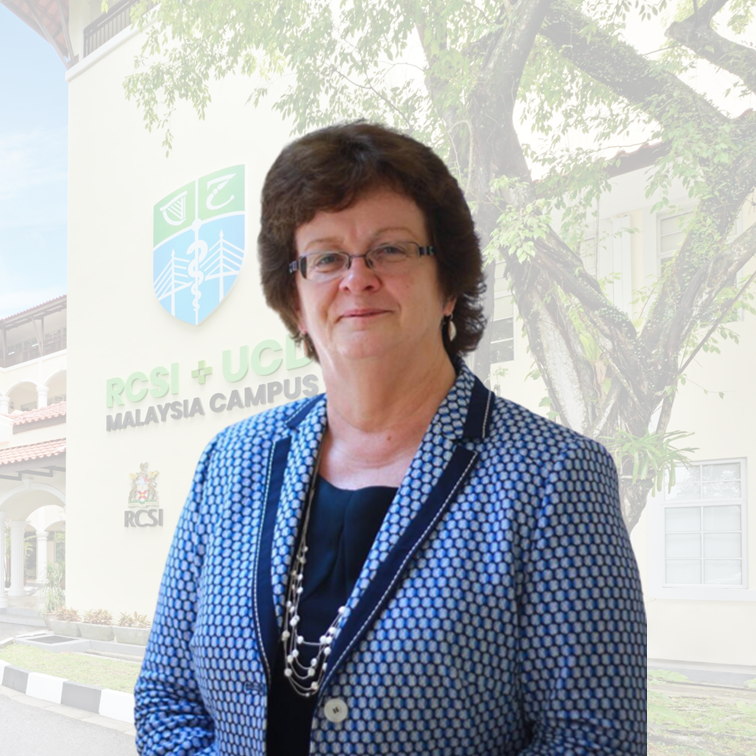 Professor Hannah McGee
Dean of the Faculty of Medicine & Health Sciences Royal College of Surgeons in Ireland (RCSI)
Professor Hannah McGee is Dean of the Faculty of Medicine & Health Sciences at RCSI. As RCSI's chief academic officer, she is responsible for the quality of degree- awarding activities in Dublin and RCSI's overseas campuses in Bahrain, Dubai and Malaysia.
Prof. McGee joined RCSI in 1987 as a Health Psychology Research Fellow. In 1997, she became Professor of Psychology and then, in 2006, the first Head of Population Health Sciences (PHS) at RCSI. She established RCSI's College-wide Research Ethics Committee in 1998.
She is a graduate of Trinity College Dublin in [BA (Mod) Physiology/Psychology] and holds a PhD in Psychology. In 2015, she was awarded a Doctor of Science (DSc) on published work by the National University of Ireland.
Some of her previous leadership roles include President of the Psychological Society of Ireland (1991-1992), President of the European Health Psychology Society (1998-2000), Chair of the Cardiac Rehabilitation Section, European Association for Cardiovascular Prevention and Rehabilitation (2008-2010) and Chair of the Council of Deans of Faculties with Medical Schools in Ireland (2011-13). She is also a fellow of the Psychological Society of Ireland, the European Health Psychology Society and the European Society of Cardiology.
---
Professor Michael Keane
Dean and Head of School of Medicine University College Dublin
Professor Michael Keane was appointed Dean of Medicine and Head of UCD's School of Medicine on September 1 st , 2018.
Prof Keane is a consultant respiratory physician and is currently Professor of Medicine and Therapeutics at St Vincent's University Hospital where he holds the position of Clinical Director and also acting Chief Executive Officer.
Prof Keane graduated from UCD School of Medicine in 1989. Following his initial clinical training in Dublin, he moved to the University of Michigan, Ann Arbor where he undertook a fellowship in pulmonary and critical care medicine in 1995. He subsequently took up a faculty position at the University of Michigan in 1998 and in 2000 moved to the University of California, Los Angeles where he was the Professor of Medicine and Programme Director for the UCLA Interstitial Lung Disease Center.
Professor Keane returned to UCD and St Vincent's University Hospital in 2007 when he was appointed Professor of Medicine and Therapeutics and consultant respiratory physician. He established a Science Foundation Ireland- funded research group at the UCD Conway Institute and became Lead Clinical Coordinator for Lung Cancer Services within the St Vincent's Healthcare Group.