RUMC and Cochrane Malaysia celebrates World Evidence-Based Healthcare Day @ 20th October 2020
Oct 20 2020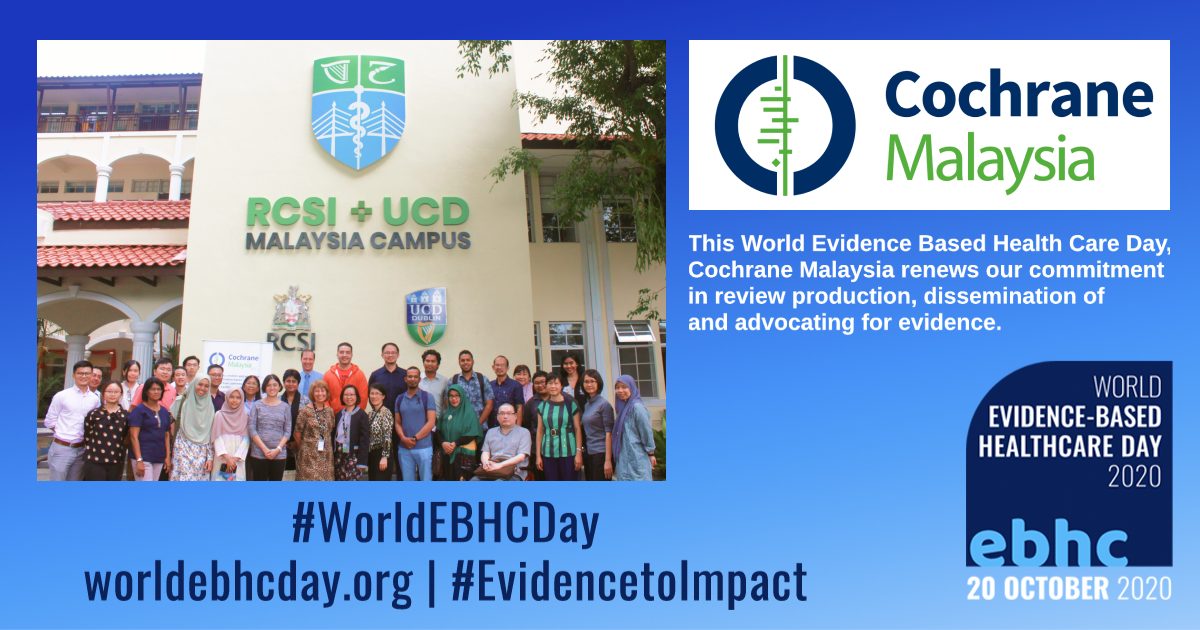 Today, 20th October 2020 is the inaugural celebration of World Evidence-Based Healthcare Day (EBHC). This special occasion shines the spotlight on the global impact of EBHC on health research, policy, practice and patient outcomes.
World EBHC day is a great opportunity to educate a broad audience about the importance of evidence-based healthcare and the need for better evidence to inform healthcare policy and practice, as well as to encourage debate and discussion amongst the global evidence community.
RUMC, along with Cochrane Malaysia celebrated World EBHC day with a story-writing competition for our students in Dublin and Penang. They were invited to share their stories on how research evidence has impacted on them or a family member in a personal way.
"We were delighted with the entries received and thank those who participated and helped make it happen," said Prof David Whitford, President & CEO of RUMC as he congratulated the winners.
Prof David also acknowledged the participation of two final judges: Prof Richard Loh, one of our RUMC lecturers in evidence-based medicine and Ms Shauna Hurley from Cochrane Australia.
Congratulations to our winners:-
Overall Winner: Lim Chia Yin. Lim Chia Yin was in our Foundation in Science programme last year and is currently at RCSI. Her story is entitled: "The First Step Against Depression".
Contest judge, Shauna Hurley from Cochrane Australia, remarked:
"THIS IS A WONDERFUL ESSAY. IT OFFERS AN HONEST AND DEEPLY PERSONAL ACCOUNT OF A DIFFICULT HEALTH ISSUE THAT AFFECTS MILLIONS OF PEOPLE AROUND THE GLOBE, WHILE AT THE SAME TIME DEMONSTRATING HOW SEARCHING FOR HIGH-QUALITY EVIDENCE AND APPLYING THE FINDINGS CAN DELIVER REAL BENEFITS AND IMPROVED HEALTH OUTCOMES…."
Runner-up: Wan Ain Sharmimi Sofia Binti Wan Mohd Razani is a second-year student at UCD. Her story is entitled: "Tonsils – to be kept or removed".
Contest judge, Shauna Hurley from Cochrane Australia, remarked:
"… A USEFUL, RELATABLE AND REAL LIFE EXAMPLE OF THE CHALLENGES INVOLVED IN MAKING HEALTH CARE DECISIONS AND THE DIFFICULTY OF FINDING CLEAR INFORMATION ABOUT THE BENEFITS AND HARMS OF DIFFERENT INTERVENTIONS"