Celebrating Student Excellence: Sonia Nde's Triumph at RUMC
Nov 15 2023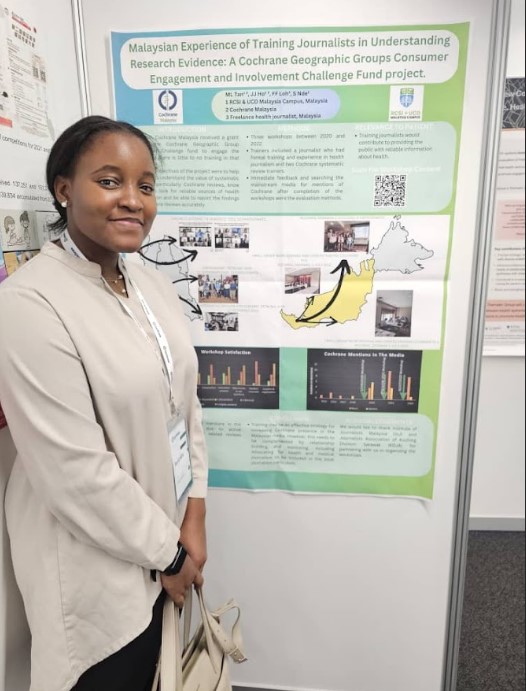 In the recent milestone achievement for the RUMC (RCSI & UCD Malaysia Campus), one of our students, Sonia Nde, made history by becoming the first student representative from our institution to attend a Cochrane Colloquium. This was held between 3rd and 6th September 2023 in London.
This international annual affair is the flagship event of the Cochrane Collaboration. The forum is for anyone interested in producing trustworthy, high-quality research evidence and discussion on how to help people understand and use research. These include researchers, people in health policy, healthcare providers (i.e. doctors and nurses), and patients or their caregivers.
The event, themed 'Forward together for trusted evidence', served as a platform for global health enthusiasts to delve into critical research questions while advocating for evidence-informed healthcare practices. People from all these groups need to be involved in making this type of research available. Sonia's participation and contribution to the event was a notable achievement.
Sonia's journey to the colloquium was paved with determination and support from her mentors, Professor Jacqueline Ho and Associate Professor Dr. May Loong Tan, both co-directors of Cochrane Malaysia. With their guidance and the aid of a stipend from Cochrane Malaysia, Sonia worked on her poster, titled "Malaysian Experience of Training Journalists in Understanding Research Evidence: A Cochrane Geographic Groups Consumer Engagement and Involvement Challenge Fund project."
The paper reports on the series of training workshops that Cochrane Malaysia conducted for journalists and media personnel in partnership with the Institute of Journalists Malaysia (IoJM) and looks at the impact of the training on how research is reported in local media.
She also participated in the student event held in conjunction with the main colloquium. This proved to be a rich learning experience, exposing her to new ideas and connecting her to other like-minded students. "I realise now how much bias colours the evidence we have. We should question what we do in our clinical work. Does the science behind it meet up to scrutiny? Evidence-based medicine is a lot more than what we get as an undergraduate," said Sonia.
"Sonia could select which sessions from the many concurrent sessions in the programme. She found that they suited her and were at her level of understanding. During the poster session, many came to speak to her and she shared her knowledge about the poster presentation. I could see she benefited not from just attending the sessions but also networking with others," Prof. Jacqueline shared.
Reflecting on her experience, Sonia expressed profound gratitude for the opportunity to attend the colloquium. "The best thing was the student session, but I also enjoyed manning the poster. I met some fascinating people," she remarked, encapsulating the breadth of her experience and the valuable insights gained during her time at the event.
Sonia's accomplishment not only reflects her dedication to advancing evidence-informed healthcare but also underscores the commitment of RUMC towards nurturing students to strive for excellence in their academic and research pursuits. "Although in the past there have been a few Malaysian students who attended a Cochrane Colloquium, Sonia is certainly the first RUMC student and is an example of a unique learning experience. I hope other students will be inspired and supported to participate in such events in the future," said Dr. Tan.
As an institution, we take immense pride in Sonia's achievements and remain committed to fostering an environment where students can excel and make significant contributions to the global community. Her pioneering spirit and dedication are an inspiration to all students and serve as a testament to the calibre of talent within our campus.
We extend our heartfelt congratulations to Sonia Nde and look forward to witnessing the continued success and contributions of our bright students in shaping the future of healthcare and research.
To learn more about Sonia Nde's journey and the valuable contributions of Malaysians at the recent colloquium, visit Cochrane Malaysia's website here.