New Application Procedure
Original
Study Protocol
Subject Information Sheet and Informed Consent Form
Advertisements, Questionnaire
Investigator's Brochure or Product Summary
Investigator(s)' Curriculum Vitae, GCP Certificates, APC
Recruitment Material
Insurance Coverage for subjects in event of trial-related injury
Statement from sponsor indemnifying the relevant staff, investigator, institution and JPEC
Two Full Dossiers
Study Protocol
Subject Information Sheet and Informed Consent Form
Advertisements, Questionnaire
Investigator's Brochure or Product Summary
Investigator(s)' Curriculum Vitae, GCP Certificates, APC
Recruitment Material
Insurance Coverage for subjects in event of trial-related injury
Statement from sponsor indemnifying the relevant staff, investigator, institution and JPEC
10 Simplified Dossiers
Study Protocol
Subject Information Sheet and Informed Consent Form
Advertisements, Questionnaire
Investigator(s)' Curriculum Vitae, GCP Certificates, APC
Recruitment Material
Insurance Coverage for subjects in event of trial-related injury
Statement from sponsor indemnifying the relevant staff, investigator, institution and JPEC
Submit 13 copies (1 original and 12 photocopies =2 full dossiers+ 10 simplified dossiers) of the above supporting documents.
Investigators that will conduct an interventional clinical trial should be trained and certified in an approved training of Good Clinical Practice (GCP) by the National Committee for Clinical Research (NCCR).
All new applications are to be submitted with a one-off application fee of RM2,000 per research project made payable to 'RCSI & UCD Malaysia Campus'. Application(s) will only be processed upon receipt of full payment.
Application fees are as follows:

BA / BE (Bio-availability / Bio-equivalence) study : RM 4000/ per study.
Industry-sponsored study: RM 5000/ per study.

Kindly refer the following for the bank-in details:

Beneficiary Name: PENANG MEDICAL COLLEGE SDN BHD

Bank Name: UNITED OVERSEAS BANK (M) BHD.

Virtual Account No: 10542-9100-008

Swift Code: UOVBMYKL

Branch Name: UOBM Jalan Kelawei

Branch Address: 9, Jalan Kelawei, 10250 Pulau Pinang, Malaysia

It is the prerogative of JPEC to waive this fee for investigator-driven research, which does not receive funding.
Any incomplete applications will lead to a delay in review.
Applicants are required to register all research projects with the National Medical Research Register (NMRR) at https://www.nmrr.gov.my/fwbLoginPage.jsp. The full NMRR ID should be provided to JPEC for trials seeking approval from JPEC. No approval will be given without the NMRR ID.
Amendment Application Procedure
Complete the 'Application for Amendment to Research Project involving Human Subjects'(signed by PI or CI for multiple sites) form and submit one original copy with relevant supporting documents. For applications, that may affect subject safety, rights or welfare, the proposed amendments and study documents(s) with proposed amendments clearly indicated (tracked changes) and the rationale for the amendment needs to be submitted along the with the form.
These applications may either undergo an expedited review or a meeting review:
Meeting Review
Amendments affecting the subject's safety, right or welfare.
Expedited Review
Amendments are purely administrative or logistical or clearly do not affect subject safety, rights or welfare.
Sometimes minor administrative amendments are submitted to JPEC for its information only. These include amendments involving logistical or admirative aspects of the trial. (e.g.: change of monitor(s), telephone number(s), change of address of central laboratory etc.) The JPEC officer will review and acknowledge receipt of the information on such amendments.
Forms required for submission with supporting documents
Application form to conduct a new research project involving human subjects.
Applicant's Document Checklist for submitting an Application to conduct a new research project.
Applicant's checklist of minimum elements in the informed consent form and written subject information.
Other Forms required for monitoring of the trials approved by JPEC
For Amendment Application
What does JPEC look for in its review of application?
01
Scientific design and conduct of study
02
Recruitment of subjects
03
Protection of subject confidentiality
04
Informed consert process
05
Community considerations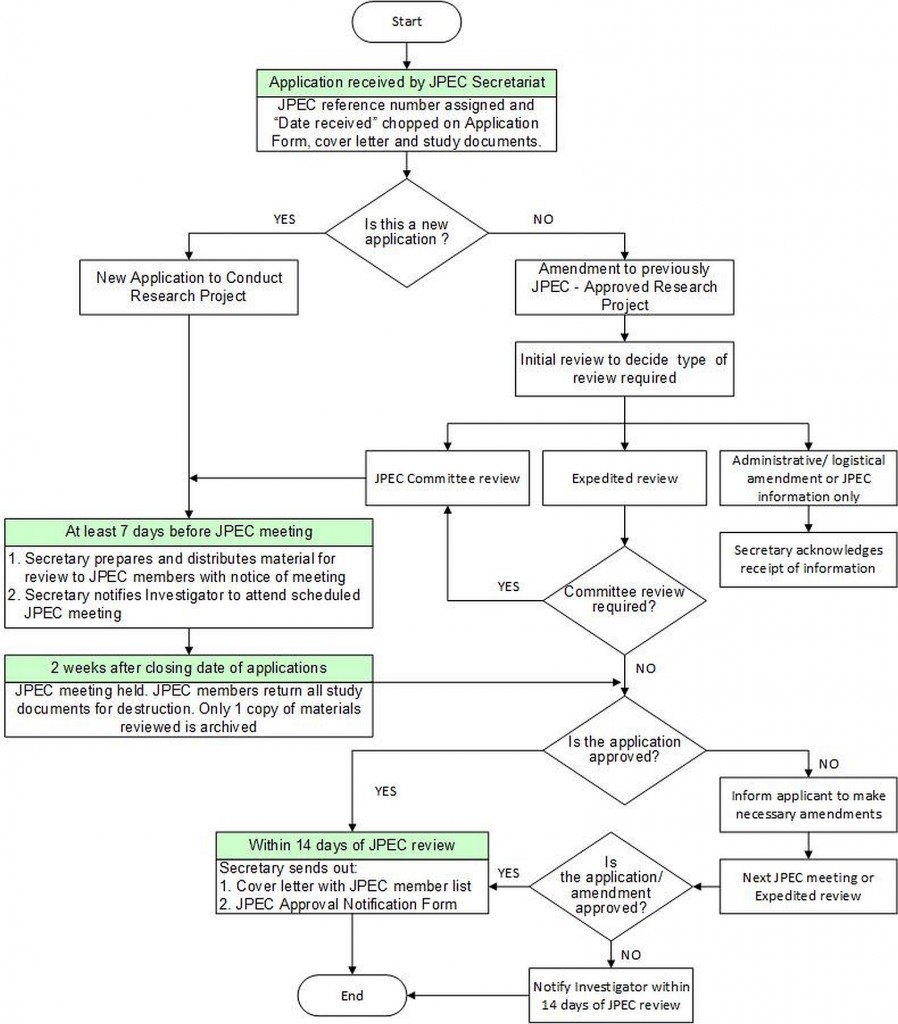 JPEC informs applicants of its decision in writing within 14 days from its review. In cases of a full approval, a statement of responsibilities of the investigator is provided. In cases of negative decisions (i.e rejected, termination), reasons are provided.
JPEC approvals for new research projects are valid for 12 months from the date of issue of the JPEC Decision Notification Form. A new application to JPEC will have to be submitted for research projects that are not commenced within 12 months from the date of issue of the JPEC Decision Notification Form.
In some instances, JPEC grants conditional approvals. In these cases applicants must show evidence that they have complied with these conditions within 8 weeks from this notification to receive a full approval. After that date, the file on this application will be closed if no response is received by JPEC. A new application will need to be submitted if the applicant is keen on pursuing ethical approval.
All adverse drug reactions (ADRs), which are both serious and/or unexpected, are to be reported to JPEC. In the case of serious adverse events ( SAEs ) occurring in the investigator's institution, the investigator is to notify the JPEC Chairperson within 24 hours of its notification to the investigator, using the JPEC Serious Adverse Event Report.
For SAEs outside of the investigator's institution (applicable in multicentre trials):
Only Suspected, Unexpected and Serious Adverse Reaction (SUSAR) are to be submitted to JPEC
Those that are fatal/life-threatening : Investigator is to report (cc. local investigator) the SUSAR to JPEC within 7 calendar days from first knowledge by the INVESTIGATOR. If there is additional information, this should be submitted within 8 calendar days.
Those that are non-fatal/life-threatening SUSARs, to submit to JPEC within 15 calendar days from first knowledge by the INVESTIGATOR.
Only protocol specific investigational product(s) SUSARs are to be submitted to JPEC.
All periodic SUSAR reporting (line listing) are to be accompanied by a brief report by sponsor highlighting main points of concern, if any.
Annual Safety Report is expected on an annual basis throughout the whole clinical trial course. This report will describe concisely all new safety information relevant for the trial and to assess the safety conditions of subjects in the trial.
After JPEC has issued ethical approval for a trial to begin, it continues to monitor the trial to ensure that the subjects' welfare, safety and rights are protected through the dynamics of time. This is done by receiving notification from investigators of the following:
Amendments to the trial
Reports – serious adverse event, trial progress and closure reports
Or by conducting an audit of the trial
A Research Project Progress Report is to be submitted to JPEC at specified intervals (usually annually) once a trial is ongoing. Upon study closure, a Research Project Closure Report is to be submitted to JPEC. Normally, the first research project progress report is due one year from the date of issue of the JPEC Decision Notification Form. However, studies with higher risk to subjects may require more frequent progress reporting. The Research Progress report is not applicable to short studies, which are closed within a year from date of issue of the Decision Notification Form. In this instance, only the study closure report needs to be submitted o JPEC.
Investigator(s) involved in ongoing trial(s) are required to submit to JPEC their most recent, updated Curriculum Vitae and Annual Practicing Certificate annually (beginning of each year) until JPEC is notified of study or site closure.
If the applicant perceives a request for amendment, substantial change, resubmission or non approval unfair or unwarranted, the applicant will initially confer with the Secretary for clarification of the reasoning of JPEC.
If, after consultation with the Secretary, the applicant is not satisfied, the applicant has the right to request, and JPEC is obligated to provide reconsideration of negative decision through an appeal process.
Only appeals that are made in writing will be considered. Letters of appeal must be received within 30 days in advance of the next scheduled JPEC meeting.
The appeal process would involve four steps
A discussion of the issue appealed
A review of the evidence
A considered decision arrived at
Communication of the decision outcome made during a convened meeting
JPEC may invite the appellant to attend the meeting
The decision of the appeal is based on
A full and clear understanding of the facts of the original review
The nature of the appeal
Legal opinion
Adherence to the ICH and Malaysian Guideline for GCP
Adherence to JPEC SOPs
Attention to the internal and external reputation of Penang Medical College and Info Kinetics Sdn Bhd Clinical Research Centre
The outcomes to appeal would include
Whether the appeal is successful or not
Reasons for the decision
Communication of the decision is within 7 days of the meeting
JPEC's decision is final
Date Of Meeting
MO

TU

WE

TH

FR

SA

SU
28

29

30

31

1

2

3
4

5

6

7

8

9

10
11

12

13

14

15

16

17
18

19

20

21

22

23

24
25

26

27

28

29

30

1
Events for September
1
No Events
Events for September
2
No Events
Events for September
3
No Events
Events for September
4
No Events
Events for September
5
No Events
Events for September
6
No Events
Events for September
7
No Events
Events for September
8
No Events
Events for September
9
No Events
Events for September
10
No Events
Events for September
11
No Events
Events for September
12
No Events
Events for September
13
No Events
Events for September
14
No Events
Events for September
15
No Events
Events for September
16
No Events
Events for September
17
No Events
Events for September
18
No Events
Events for September
19
No Events
Events for September
20
No Events
Events for September
21
No Events
Events for September
22
No Events
Events for September
23
No Events
Events for September
24
No Events
Events for September
25
No Events
Events for September
26
No Events
Events for September
27
No Events
Events for September
28
No Events
Events for September
29
No Events
Events for September
30
No Events