[container]
[row]
[column md="12″]
Tuition Fees –
MEDICINE
All tuition and ancillary fees in RUMC are subject to annual increases. The tuition fee for the clinical component is fixed for the duration of the studies.
The fees are correct at the time of publishing and RUMC reserves the right to make changes to the fees without prior notice.
The fees reflect currency exchange rates and may be different at the time of a transaction.
In addition to tuition fees, all students are required to register with the National University of Ireland at a cost of €135 and undergo medical vaccination ranging from €225 to €250.
[su_lightbox type="image" src="/wp-content/uploads/2018/07/PMC-Fees-Flyer-2018-722×1024.jpg"]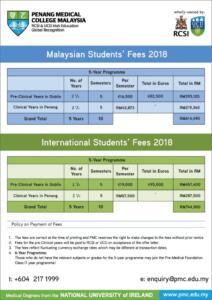 [/su_lightbox]
[/column]
[/row]
[/container]