RCSI & UCD Malaysia Campus Welcomed 114 Doctors-in-Training for Clinical Years in Penang.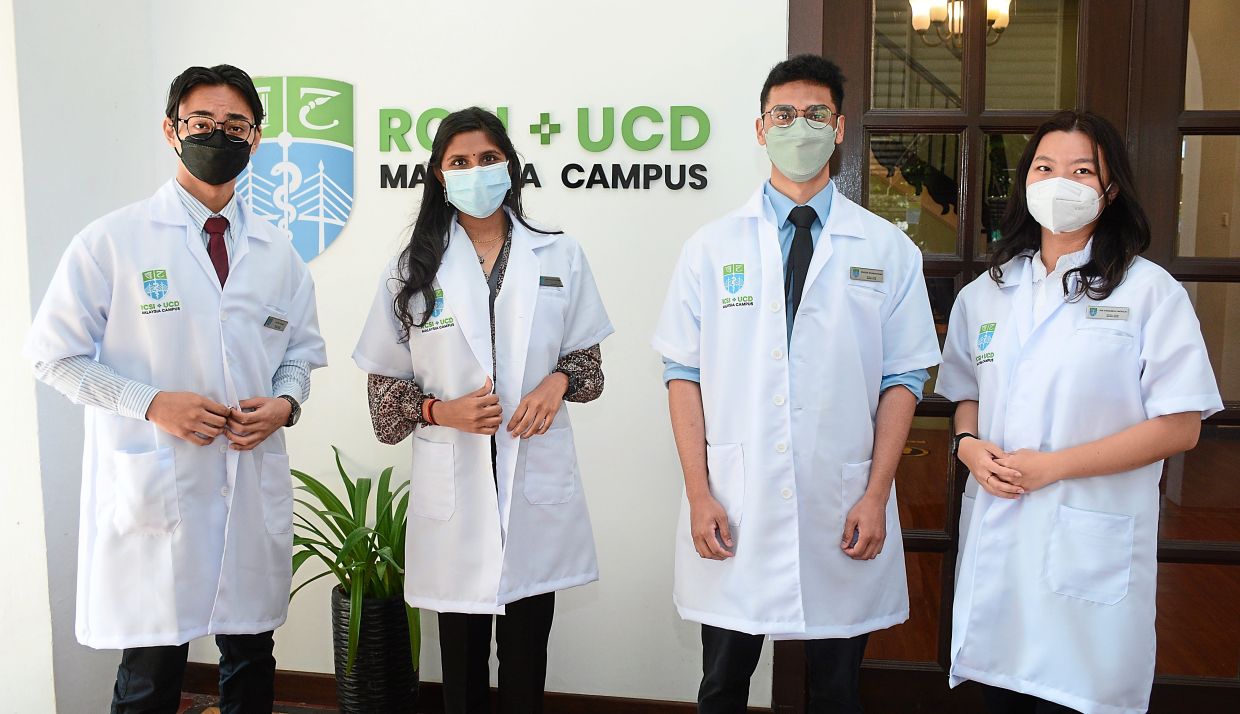 It's the beginning of an adventurous clinical journey for 114 students of RCSI & UCD Malaysia Campus (RUMC) as they returned from Dublin, Ireland to continue their training in Penang. To honour these returning students, RUMC held the White Coat Ceremony – a rite of passage for medical students indicating the beginning of their clinical journey at the hospitals.
One of the doctors-in-training is Muqri Hilman who progressed to the medical degree programme from RUMC's first batch of Foundation in Science (FIS) students. His passion for Medicine became stronger after achieving straight A's in his SPM examination. For Muqri, the Foundation programme at RUMC is the driving force to fulfilling his ambition of becoming a doctor as he was inspired to pursue a career in Medicine even more after being exposed to an organised and well-thought-out programme structure. Having done his pre-clinical training at the Royal College of Surgeons in Ireland (RCSI), Muqri also shared how the university nurtured students with constant surveys, great student-professor interactions and well-balanced student life.
When asked about his upcoming clinical journey in Penang, Muqri said, "I look forward to my interaction with patients the most. I am also excited to be training along with healthcare professionals in the hospitals and learning their lifestyles."
Nattaphol Sresthaporn is one of the international students in the Class of 2024 who is looking forward to his clinical journey in Penang after completing his pre-clinical at University College Dublin (UCD). Hailing from Bangkok, Thailand, Nattaphol had just finished high school when he started his first year at RUMC, yet felt so welcomed and managed to adapt to the student lifestyle in Dublin. Studying at RUMC also allowed him to explore the Malaysian culture and tradition through the Malaysian Society at UCD. He fondly recalled his memories of participating in the society's annual Malaysian Night event as a supporting actor in his first year and a co-scriptwriter in his second year.
"Besides clinical training, I also look forward to visiting Penang and learning about the cultural heritage, exploring RUMC campus and meeting my new professors and colleagues again," said Nattaphol.
Joining Muqri and Nattaphol in their clinical journey is charity work enthusiast, Keesha Ravintharan. Keesha embarked on her 6-year journey to Medicine with RUMC after completing her Foundation in Science at Universiti Kebangsaan Malaysia (UKM). Her pre-clinical years at RCSI was an interesting one as she had opportunities to participate in various activities. She was also an active volunteer in charitable organisations in Dublin. Among her involvements are in the 'Irish Society for the Prevention of Cruelty to Children (ISPCC)' as a ChildLine staff volunteer and in a Child camp 'Barretstown Camp' in Ireland as a Volunteer Cara.
"Actively engaging in hands-on experience is my all-time dream. I am looking forward to going on rotations, clinical placements, community projects and eagerly waiting to meet patients and interact with them to apply my knowledge from pre-clinical training into these coming years," shared Keesha.
Muqri, Nattaphol and Keesha are among the 114 doctors-in-training who received their white coat in a ceremony held on 22nd January 2022, signifying the commencement of their clinical years for another 2 ½ years at teaching hospitals in Penang. The White Coat ceremony also welcomes students to healthcare practice and emphasises humanism as the primary aspect of healthcare and compassion in combination with scientific excellence.
The event began with addresses by Professor David Whitford, President & CEO of RUMC, Professor Premnath Nagalingam, Dean of RUMC and Dr Premalosini, Deputy Director (Medical) of Penang General Hospital representing Penang State Health Department followed by White Coat Ceremony Oath Taking led by the Dean.
This year, the physical ceremony was held at RUMC in presence of the students and conducted in compliance with the Standard Operating Procedures outlined by the Malaysian government.
"This is a day that signifies the transition from the study of preclinical to clinical medicine for you. It emphasises the fact that your contact with the patient will now be highly significant and this ceremony brings to the forefront the responsibility that goes along with that," said Professor Whitford in his address during the ceremony.